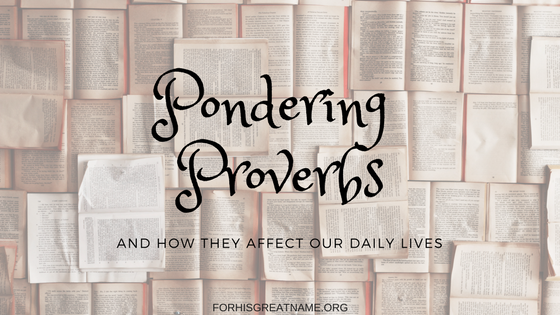 But whoever listens to me will live in safety and be at ease, without fear of harm. – Proverbs 1:33
At first glance, Proverbs appears to be a 'do this and this will happen' type of book. Well, in a way, it is. But, in other ways, it isn't. It is not guaranteed that if you follow the Lord, your life will be perfect. We're actually guaranteed the opposite.
"Indeed, all who desire to live a godly life in Christ Jesus will be persecuted." ~ 2 Timothy 3:12

"'If the world hates you, know that it has hated me before it hated you. If you were of the world, the world would love you as its own; but because you are not of the world, but I chose you out of the world, therefore the world hates you. Remember the word that I said to you: 'A servant is not greater than his master.' If they persecuted me, they will also persecute you. If they kept my word, they will also keep yours…'" ~ John 15:18-20
However, through those hardships, if we trust God and remember that He knows what is best for us, we don't have to live in fear. Not because we don't have struggles, but because we trust in Him who loves us dearly and is more powerful and wonderful than we can ever imagine.
"Peace I leave with you; my peace I give to you. Not as the world gives do I give to you. Let not your hearts be troubled, neither let them be afraid." ~ John 14:27